In a strange occurrence that occurred in Goa, a Kia Seltos was discovered abandoned after being trapped in a constrained roadway. The adjoining building's residents described the occurrence and said that the owner hadn't come back to get the car in more than a week.
According to the resident's account, he was awakened by loud noises at 12:30 AM. He went outside to find out and discovered a Kia Seltos attempting a U-turn but getting trapped between two boundary walls. The driver persistently tried to maneuver, resulting in multiple collisions with the front and back walls of the car.
You might also want to give this a read: JEEP IS CONSIDERING ITS ALTERNATIVES BEFORE DECIDING ON AN EV STRATEGY FOR INDIA
The resident, who appears to be a foreigner, mentioned that the individual didn't appear intoxicated. He requested the keys to the Kia Seltos and instructed him to figure out how to start the car in the morning. After happily giving over the keys, the owner of the Kia Seltos walked out of the building. He also left his belongings inside the car.
He did not, however, come back to get the car or the keys. It's been more than a week now, and the car is still stuck in the same spot.
Since the gate in front of him was closed, it appears that the car's driver miscalculated the width of the roadway and attempted to do a U-turn. However, due to the tight area, he ended up getting the car trapped.
A tourist owns the vehicle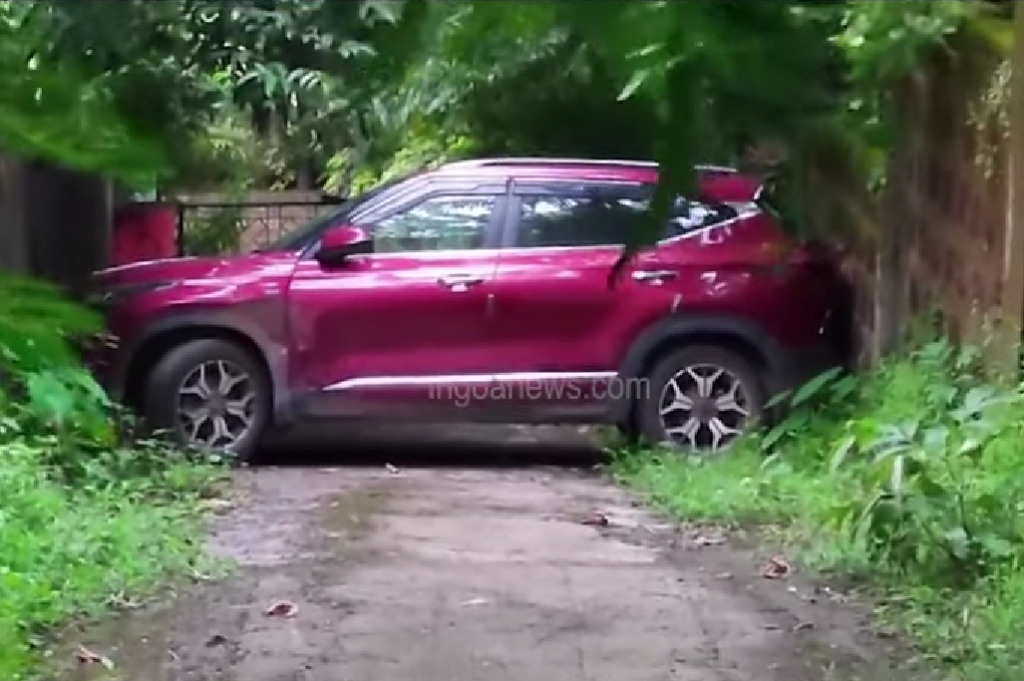 This seems to be the most unusual of all the strange things tourists do in Goa and are caught doing. Given that it has an out-of-state registration, this Kia Seltos likewise appears to be a tourist vehicle. Every year, visitors come to Goa from all over the world. However, as they disregard laws and regulations, many tourists do not respect the locals adequately.
Alcohol-impaired driving is a common occurrence among visitors. Many people are observed driving on the beaches. Because of the wildlife and sealift operations, several of the beaches in Goa are protected. To have fun, many tourists disregard the law and drive to the beaches. We have already witnessed several visitors being detained by the police as a result of their severe behavior, and we anticipate that this trend will continue.
(Source: In Goa 24×7)
What do you think about this? Don't forget to share it with your friends and family. Comment below! 👇😄
Make sure to follow us on social media for more exciting car and bike-related content!
Checkout our Amazon Best Sellers: Click Here