Quitting a job can be an emotional experience, especially for someone who has spent a lot of time and built an emotional connection to their job. An example of this was the retirement of a bus driver who had served for 30 years, an event that moved him to tears. 
The driver, Muthupandi, has been working as a driver for the Tamil Nadu State Transport Corporation (TNSTC) for 30 years. In an incident documented by a bus conductor, Muthupandi was the last to be seen exiting the bus. He hugged the bus, visibly moved, with tears in his eyes. 
Read also: VIRAL: MARUTI SUZUKI BALENO HITS A SHARE AUTO ON TAMIL NADU HIGHWAY
The Driver Shared How His Profession Earned Him Social Respect
Muthupandi took to the camera to express his deep respect for his work, acknowledging that it gave him social status and respect when he started 30 years ago. He even reveals that he got married after securing his job as his chauffeur.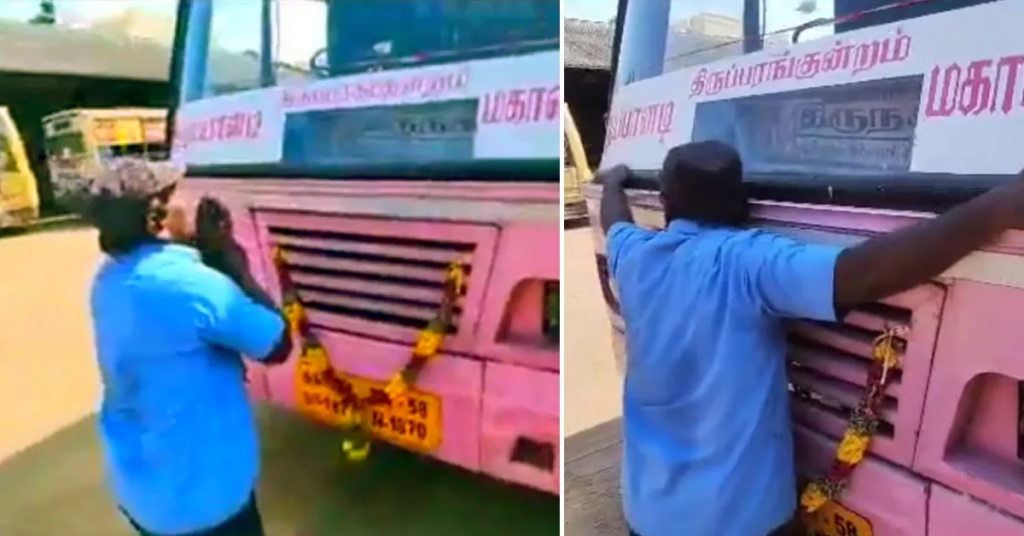 It's unclear if this is the same bus he's driven throughout his career, but it's likely. Still, it's clear that Muthupandi spent a lot of time inside the bus featured in the video. Driver's touching farewell video went viral on various social media platforms.
Many of these bus drivers were hired decades ago and have spent their entire lives driving the same routes. Many incidents like this show that drivers have a deep emotional bond with their buses, which have become an integral part of their daily lives over the years. 
Route closures make bus drivers emotional
Last year, the Kerala State Road Transport Corporation (KSRTC) announced the launch of a new long-distance bus service called Swift. As part of his KSRTC's plan to replace the old interstate buses with new KSRTC Swift buses, a legally independent company was created to operate these buses. As a result, services such as the Changanaseri-Velangkani interstate super-express were suspended, and the bus driver, Mr Ponnukuttan, who had a strong emotional bond with the bus, was greatly affected mentally. However, surprisingly, KSRTC has announced that it will maintain the service.
The report said Ponnukuttan had been driving a bus on the route for 10 years. He was appalled to learn that the Super Express service on this line had been replaced by Swiftbus. The news was a shock to him. However, it was stated that not only the driver but also the passengers were happy with the decision. 
What do you think about this? and share this with your friends & family, comment down below. 👇🏻
Follow us on social media for more car & bikes related content