Recently, three Tata Punch cars were revealed to have caught fire, and another made headlines this time after its owner shared details on social media. It's the fourth Tata Punch to catch fire, and the owner says the car is only a year old. Shivam Jaula expressed disappointment that no one had contacted them after three days. 
Looking for Top Rated Car & Bike Accessories? – ( Click Here )
The customer did not provide exact details of how the car caught fire, but uploaded a video showing the engine compartment being completely destroyed. The fire is believed to have started in the engine room, and several parts were damaged. The video shows people gathering around the vehicle. The owner of the vehicle was apparently driving at the time of the fire but did not provide further details. 
Also read: MAHINDRA XUV700 CATCHES FIRE ON JAIPUR HIGHWAY
After the tweet, the official Tata Motors Twitter handle responded, requesting the owner to share the details of the incident. However, the owner claims that no one has contacted him for at least three days, despite sharing the details.
Tata punch caught fire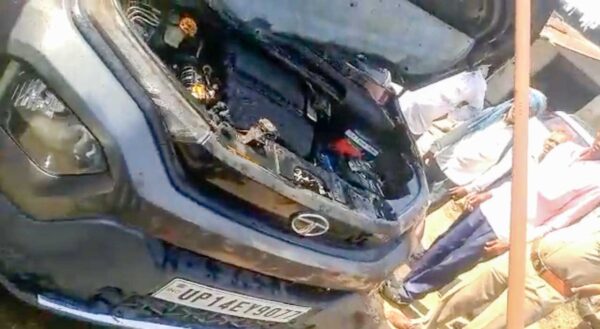 It is unclear if the car has already arrived at the service centre and Tata Motors has not provided a diagnostic report on the fire or its cause. In a recent incident involving the Mahindra XUV700, the company detailed that the fire was caused by the installation of an aftermarket accessory. However, Tata Motors has yet to release such information or statements. 
3 More Tata cars caught fire in the past
Up to three Tata Punch cars have been hit by fire in the past. The latest incident occurred in Guwahati, Assam, when a punch caught fire in the middle of the road.
Car fires can occur in any make of a vehicle and are a serious safety hazard, so it is important to take great care when handling your vehicle. Most fires are caused by aftermarket installations or cable connections. It is important to note that such modifications may also affect the vehicle's warranty.
The Tata Punch fire accident may have been accidental, but Tata Motors needs to investigate the matter and find out the root cause. The manufacturer can restore the trust of the purchaser by thoroughly investigating and investigating the cause. Tata is a customer-favourite brand for its build quality, and events like this could make customers reconsider their choices.
Tata Punch wasn't the only one that caught fire. A video of Tata Nexon and an 11-month-old Tata Harrier catching fire has also surfaced online. In the case of the Tata Nexon, vigilant guards managed to extinguish the fire, but in the case of the Harrier, the car burst into flames in the middle of the road and the owner managed to escape. These accidents show how important it is to investigate the root causes of car fires to prevent such accidents in the future. 
What do you think about this? and share this with your friends & family, comment down below. 👇🏻
Follow us on social media